If you like what you read consider a donation so i can continue to make my content free to the world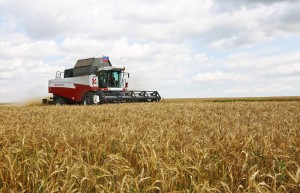 Russia Number One World Wheat Exporter
By F. William engdahl
15 June 2016
One of the comments most often heard by western mainstream economists is that Russia's economy is too dependent on energy export and not able to be competitive in areas other than simple commodity export. While oil and gas exports remain a vital source of revenue for the State, it is far from the only one. Owing to USA and EU economic sanctions targeting the energy sector of Russia in 2014, in August 2014 the Kremlin retaliated with sanctions on a large range of EU and US food imports. Some months later in November 2015 after Turkey shot a Russian jet down over Syrian airspace, Moscow also banned major food imports from Turkey, especially tomatoes and cucumbers. The sharp reduction of food imports and select government agriculture incentives have resulted in a dramatic rise in Russian agriculture output
Before the Russian import ban, fully 40% of all Russian retail food sales were of imports. Everything from tomatoes to chickens were likely to be imports on the supermarket shelves. Multinational labels such as Nestle, Kraft, Danone were everywhere. Russians forgot their own rich food taste for the most part. Western agribusiness was well on its way to drown domestic quality food production in cheap imports. This has now dramatically changed in the short span of less than two years. Today Russian agriculture is undergoing a quiet and dramatic renaissance or new-birth in fact
President Vladimir Putin in his annual Presidential Address to the Federal Assembly on December 3, 2015 announced the national goal for Russia to become food self-sufficient within four years, by 2020 . That means replacing fully 40% of food consumption within six years. And the remarkable thing is that that goal today looks modest if anything.
After introducing food import bans against Turkey in November 2015, President Putin declared, "Russia is able to become the world's largest supplier of healthy, ecologically clean and high-quality food, which Western producers have long lost." Russia last year also announced a complete ban on planting GMO crops or importing GMO crops from the West .
As a result of the combined import bans and measures to increase domestic food production, Russia has cut international food purchases by about 40 percent since 2013, to $26.5 billion by end of 2015 .
World Top Wheat Producer
Today the Russian Federation is one of the world's leading agriculture exporters. The total value of exports in 2015 to some 140 countries was estimated at $20 billion, fully $5 billion more than in 2014, an increase of more than a third in one year of sanctions . That was about 25% more than arms export earnings and fully one third earnings from export of natural gas.
Many have the image of a backward, inefficient Soviet food system with giant collective farms and incentive-less producers. That model is mostly long gone. Today, fully 70% of all Russian farmland is private. The predominant form of privatization during the 1990s was distribution of lands among former state and collective farm employees. Since then most land, especially the rich black earth soil lands of South Russia near the Black Sea is officially fixed in the form of private ownership .
With some of the richest black earth soil in the world, Russia, under the right incentives, was prime to make a dramatic production rise. Russia encompasses one of only two soil belts in the world known as "Chernozem belts." It runs from Southern Russia into Siberia across Kursk, Lipetsk, Tambov and Voronezh Oblasts. Chernozem, Russian for black soil, are black-colored soils with a high percentage of humus, phosphoric acids, phosphorus and ammonia. Chernozem is very fertile soil producing a high agricultural yield. The Russian Chernozem belt stretches from Siberia and southern Russia into northeast Ukraine, on to the Balkans along the Danube .
This past harvest year, Russia surpassed the United States to become the biggest exporter of wheat — a milestone. She also enjoyed bumper yields of corn, rice, soybeans and buckwheat. Major buyers of Russian wheat and barley include Egypt, Saudi Arabia, Iran, Azerbaijan, Yemen, Libya, Nigeria, South Africa and South Korea.
Since the end of World War II, US agriculture exports have been regarded as a strategic sector. Today, owning to decades of heavy chemical use and intensive agribusiness methods, prime US farmland in places such as Kansas are facing serious soil depletion and death of vital micro-organisms. Harvest yield does not replace harvest quality and here organic Russian grains are emerging as the major force on world grain markets.
Russia today also permits foreign leasing of agriculture land. The government is in discussion with Asian food groups in China and Thailand to help invest and modernize key sectors such as dairy production. The Russian Direct Investment Fund (RDIF) has a $2 billion fund with China to invest in agricultural projects. They also recently formed a joint venture with Thailand's CP Group to build Russia's largest integrated dairy complex. It's also working with Egypt to create an export hub for Russian grain on the Suez Canal.
Notable is the fact that many of Russia's oligarchs, rather than take their riches out of the country to invest in London real estate or football clubs or other projects that do nothing to build Russia's economy, are now investing big sums into Russia's agriculture. Tax and other incentives that the Government has put in place are making agriculture investment in Russia hugely profitable for these Russians. Yevgenia Tyurikova, the head of private banking at state-run Sberbank, Russia's largest, recently told Bloomberg, "The two hottest investments for rich Russians are farmland and European hotels. This trend is absolutely new."
The month that Putin declared the 2020 food self-sufficiency goal in December last year, one such oligarch, Vladimir Evtushenkov, through his holding, AFK Sistema, bought the huge Yuzhny Agricultural Complex, with greenhouses the size of 2,300 football fields between the Black and Caspian seas. The plants, mainly tomatoes and cucumbers, get pure clean water from melting ice from nearby Mount Elbrus. They are grown by the millions and mostly trucked to Moscow, an 18 hour journey. Sistema spent about 9 billion rubles on agricultural expansion last year, and is now looking to buy more land to become one of Russia's top five milk producers.
Ros Agro Plc, a sugar and meat producer, owned by billionaire Vadim Moshkovich, got 3 billion rubles ($46 million) in state support. Under the Government incentive program to encourage investment, the company paid zero tax on profits, helping to boost its net earnings margin to 33 percent, larger even than Lukoil. Other oligarchs turning in a major way to building a modern, organic and profitable agriculture sector include Phosagro OJSC fertilizer tycoon Andrey Guryev, real estate magnate Samvel Karapetyan, United Co., Rusal chief Oleg Deripaska.
The next stage in increasing the Russian food self-sufficiency is to bring an estimated 40 million hectares of idle agriculture lands, much of it abandoned during the collapse of the economy in the Yeltsin 1990's. That's idle land about the size of Iraq. Putin has urged the state to consider giving some of it away to create more farmers, the opposite of Stalin's disastrous collectivization. The land give away began this month in the Far East.
The West's too clever sanctions strategy is in fact blowing up in their faces. Russia is turning east and not west, and agriculture is a major part of that turn.
F. William Engdahl is strategic risk consultant and lecturer, he holds a degree in politics from Princeton University and is a best-selling author on oil and geopolitics, exclusively for the online magazine "New Eastern Outlook"